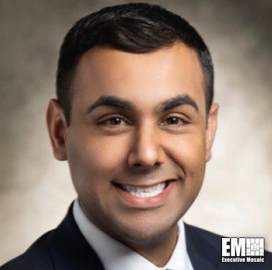 Puesh Kumar
PDAS
Department of Energy
Puesh Kumar Named Principal Deputy Assistant Secretary for Energy Department's CESER Office
The Department of Energy has tapped Puesh Kumar to serve as acting principal deputy assistant secretary for the Office of Cybersecurity, Energy Security and Emergency Response.
Kumar's appointment comes as the Energy Department works to accelerate capacity-building and reinforce its commitment to leading cybersecurity efforts within the energy sector.
In the role, Kumar will oversee the DOE's mission of addressing cyber, physical and natural hazards, as well as the threats to the U.S. energy infrastructure, Homeland Security Today reported Friday.
Kumar previously served as principal manager for cybersecurity engineering and risk management at Southern California Edison. During his time at the electricity supply company, Kumar led a team that focused on addressing cyber threats to critical infrastructure.
His latest appointment marks his second stint at the Energy Department, having worked there from May 2016 to February 2020.
According to his LinkedIn profile, Kumar first served at the DOE as director of preparedness and exercises, infrastructure and energy restoration. He held the role for over three years, supporting national security and resilience priorities.
In September 2019, he was appointed senior adviser for policy and strategy for CESER. As senior adviser, he led the development of policies and strategic initiatives to improve the security of critical infrastructure in the U.S. for six months before joining Southern California Edison.
Kumar also previously held industry positions at the American Public Power Association and at Memphis Light, Gas and Water.
He has over 15 years of experience in grid modernization, cybersecurity and energy response in the energy industry.
The newly appointed CESER leader is a graduate of the University of Memphis with a bachelor's degree in electrical engineering.
Category: Federal Civilian
Tags: American Public Power Association CESER cybersecurity Department of Energy DoE emergency response energy infrastructure energy security federal civilian Homeland Security Today LinkedIn Memphis Light Gas and Water PDAS Puesh Kumar Southern California Edison