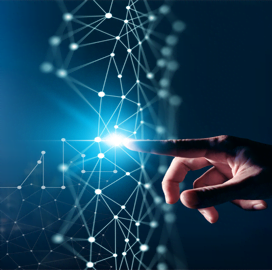 Digital battlespace
QRC Launches Spectrum Awareness Tool for Digital Defense Missions
QRC Technologies, a Parsons subsidiary, has launched a small form factor spectrum awareness solution designed to support Department of Defense missions in the digital battlespace.
GreenFish was built to extract insights from radio-frequency spectrum observations using artificial intelligence, machine learning and digital signal processing techniques, Parsons said Tuesday.
"The moment GreenFish enters the battlespace, it commences fully autonomous detection and measurement of high-speed-high-pulse count signals providing full insights into the complete digital environment," according to Mark Coleman, vice president and general manager at QRC.
Coleman said warfighters can pair GreenFish with graphics processing units to speed up their decision-making process and make better use of actionable intelligence.
Parsons said GreenFish uses machine learning to draw out patterns in the electromagnetic spectrum to allow users to tag signals based on their definition.
GreenFish supports online learning and knowledge-sharing capabilities between connected units to enable a systems-of-sensor approach in combat operations, Parsons added.
Once the tool detects data, it transfers its learned detection capabilities between systems by minimal data transfer to ensure consistent spectrum awareness across a wider range of combat operations, Parsons said.
QRC specializes in designing open architecture radio-frequency products and other integrated solutions for government, military and law enforcement agencies.
Parsons completed its acquisition of QRC in July 2019 to augment its portfolio of actionable intelligence tools with AI and data analytics technologies.
Parsons said it offers capabilities in cybersecurity, missile defense, space, connected infrastructure and smart cities for customers in the global defense, intelligence and critical infrastructure markets.
Category: Defense and Intelligence
Tags: actionable intelligence AI analytics artificial intelligence Defense and Intelligence digital digital signal processing GreenFish machine learning Mark Coleman Parsons QRC Technologies radio frequency RF small form factor spectrum awareness