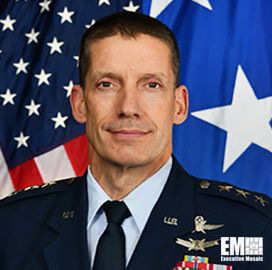 Robert Skinner
Director
DISA
Robert Skinner Assumes Leadership of JFHQ-DODIN, DISA
Air Force Lt. Gen. Robert Skinner has taken over as the new leader of the Joint Force Headquarters – Department of Defense Information Network and the Defense Information Systems Agency.
Skinner assumed command of JFHQ-DODIN and directorship of DISA during a ceremony at Fort George G. Meade in Maryland.
He succeeded Navy Vice Adm. Nancy Norton, who retired after 34 years of service to the nation, DISA said.
Previously, Skinner served as the director for command, control, communications and cyber for the U.S. Indo-Pacific Command at Camp H.M. Smith in Hawaii.
Speaking about his new role, Skinner emphasized the need to act swiftly in order to stay ahead of the competition and provide senior leaders and warfighters with mission-critical advantages.
"We are the backbone of these operational forces. We are also the command and control experts who are maneuvering the DODIN and the forces on the DODIN to build, operate, secure and defend our department's information networks," he added.
Skinner also challenged those under his leadership to embrace progress and prioritize advances for warfighters and mission partners.
The change of command and directorship ceremony also doubled as an event in honor of Norton's contribution to JFHQ-DODIN and DISA.
Army Gen. Paul Nakasone, commander of U.S. Cyber Command, credited Norton for JFHQ-DODIN's role in securing, operating and defending the DOD Information Network.
Nakasone's sentiment was echoed by John Sherman, acting Department of Defense chief information officer, who lauded Norton's efforts to make the entire enterprise more modern, advanced and secure.
Category: Defense and Intelligence
Tags: change of command Defense and Intelligence Defense Information Systems Agency Department of Defense Information Network DISA executive move JFHQ-DoDIN John Sherman Nancy Norton Paul Nakasone Robert Skinner