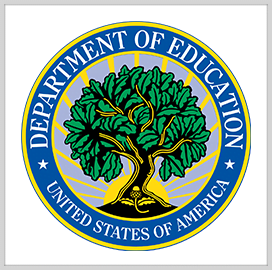 NSC membership
Senior Space Force Adviser Calls for Inclusion of Education Secretary to NSC
The U.S. Space Force's top enlisted adviser has recommended giving the secretary of education a spot on the National Space Council.
Chief Master Sgt. Roger Towberman, a senior adviser to the chief of space operations, said the government should do more to inspire passion in space technology among young people, SpaceNews reported.
President Donald Trump established the current incarnation of the National Space Council in June 2017, reviving an organization that ceased operations in 1993.
According to Trump's executive order, the National Space Council is tasked with advising and assisting the president in matters related to national space policy and strategy.
The council's current members include the vice president; the secretaries of state, defense, transportation and homeland security; the directors of national intelligence and Office of Management and Budget; and the NASA administrator.
Vice President Kamala Harris, the chairman of the National Space Council by law, recently released a fact sheet containing the organization's joint priorities with France.
The fact sheet only briefly touched on expanding the quality of and access to science, technology, engineering and mathematics education.
Towberman said during an interview with The Aerospace Corporation's Center for Space Policy and Strategy that the administration's current approach to STEM recruitment is too focused on requirements.
"The STEM brand isn't resonating with all the talented people," Towberman added, arguing that the government should instead emphasize the benefits made possible by the advancement of space technology.
Towberman contrasted space technology to the field of medicine, which he said attracts many young people because of its brand of caring instead of its status as a STEM field.
Category: Space
Tags: education Kamala Harris National Space Council Roger Towberman space SpaceNews STEM U.S. Space Force