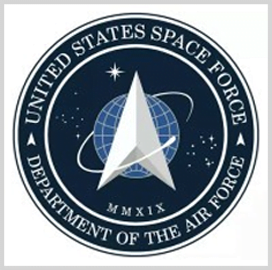 US Space Force
Space Force Adds CMMC Requirements to Inmarsat COMSATCOM Contract
The Space Force Commercial Satellite Communications Office has added Cybersecurity Maturity Model Certification requirements to a proposed COMSATCOM contract first announced in December.
As per an updated notice issued by the CSCO, contractors selected for the Inmarsat Broadband Global Area Network and Global Xpress contract must achieve CMMC Level 3 certification.
The contract requires compliance with the Department of Defense's new cybersecurity standards as it will be included in the CMMC pilot program, according to the notice posted on SAM .gov.
To demonstrate readiness in fulfilling the contract's CMMC requirements, interested contractors must consult with certified third party assessment organizations. C3PAOs evaluate security gaps and weaknesses, determining whether a company's environment meets the CMMC requirements.
The CMMC Accreditation Body is set to publish a list of C3PAOs authorized to conduct CMMC assessments on its website by June.
In the meantime, contractors are encouraged to complete a self-assessment, which is needed in order to schedule a CMMC assessment.
The CSCO said there would be separate contract vehicles for ordering GX and BGAN services and equipment.
The office is interested in signing contracts with Inmarsat resellers of GX and BGAN offerings that are available on the General Services Administration Multiple Award Schedule.
In terms of broadband services, CSO wants additional BGAN service plan options, including higher allowance BGAN subscriptions and one-time purchase cards for short duration users.
The ideal GX service includes a dashboard capability to provide real-time reporting, including usage, monitoring and fault, incident or outage information.
Category: Space
Tags: Broadband Global Area Network CMMC COMSATCOM Cybersecurity Maturity Model Certification Department of Defense DoD FCW Global Xpress Inmarsat space US Space Force