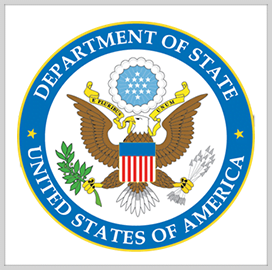 Department of State
State Department Seeks Cloud Office Support From Small Businesses
The Department of State has issued a sources sought notice to gauge the ability of 8(a)-certified small businesses to support its cloud office.
The Cloud Program Management Office, which was established two years ago, is responsible for the development, delivery and operation of new and existing enterprise cloud services.
To further department-wide cloud efforts, the State Department seeks to evaluate industry expertise and capabilities for five specific tasks, including cloud-ready application development and as-a-service platform management, Nextgov reported Tuesday.
In terms of cloud-ready application development, the department needs contractors to come up with applications for several cloud solutions such as ServiceNow, Salesforce.
The department also seeks assistance from small businesses in managing infrastructure-as-a-service platforms, including Google Cloud Platform, Amazon Web Services and Microsoft Azure, as well as platform- and software-as-a-service applications such as Google Workspace, ServiceNow and Salesforce.
Information technology is another area that the department wants covered.
In particular, it seeks IT collaboration support for the execution of design solutions for customer transitions and IT budget reporting and administrative support for drafting and managing the CPMO fiscal year budget request.
Additionally, the State Department is looking for small businesses that can provide special studies and analyses, expert services and management analyses. These services may be asked of contractors from time to time under the discretion of the department.
Category: Digital Modernization
Tags: Cloud Program Management Office cloud-ready application development digital modernization IT support Nextgov sources sought notice State Department