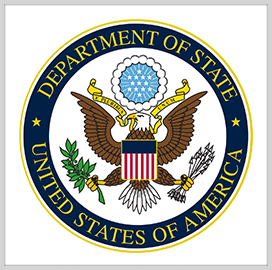 IT service interruption
State Department Sees No Foul Play in Global IT Services Outage
Spokespersons for the Department of State announced that a worldwide IT services outage was resolved shortly after midnight on Friday morning. The problem was traced to a defect in a recently deployed operating system patch that disrupted applications including unclassified email, which affected multiple users around the department on Thursday, FedScoop reported Friday.
Deputy Spokesperson Jalina Porter told reporters that there was no indication that the disruption was due to malicious activity. She stressed that the department takes seriously its responsibility to not only safeguard its information and systems but also the safety and security of its workforce.
The State Department's workforce consists of about 13,000 Foreign Service members, 11,000 civil service employees and 45,000 locally employed staff across 273 diplomatic posts worldwide. The department refused to disclose how many of its employees were affected by the IT outage.
For his part, Spokesman Ned Price said there is likely a "technical explanation" for the day-long service disruption.
Several sources confirmed that the department leaders sent a bulletin to employees Thursday morning, notifying them that the agency was experiencing a worldwide email outage and that it was dealing with issues from a Microsoft patch meant to fix general bugs.
FedScoop said that concerned employees were told via the bulletin that engineers were working to restore full access.
A phone number for the department's IT service center said in an automated message that the Bureau of Information Resource Management's customers was experiencing issues logging into GoVirtual, GoBrowser and Self-Service Password Reset, according to Federal News Network.
It was reported that the agency launched the SSPR system in 2019 to allow employees to quickly create a new password without assistance from another State Department employee.
Category: Federal Civilian
Tags: email federal civilian FedScoop global IT services information technology outage State Department