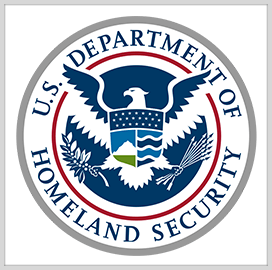 Department of Homeland
Security
University of Washington to Develop Testing Criteria for Contact Tracing Apps
The University of Washington's Applied Physics Laboratory will help the Department of Homeland Security develop testing criteria for digital contact tracing applications.
UW-APL will also help the directorate explore policy considerations for the use of DCT apps, some of which pose privacy and civil liberty concerns, according to DHS.
Work will be done under the terms of a $959,305 deal awarded through the DHS Science and Technology Directorate's Silicon Valley Innovation Program.
"Acceptance of DCT app testing results is entirely predicated on the confidence the public has in the test criteria, as well the process and the people involved in its development," said SVIP Technical Director Anil John.
He said UW-APL will help convene experts and publicly credible individuals who can bring the diverse set of viewpoints that the department needs for the effort.
SVIP is among the directorate's programs aimed at financing private-sector innovations to advance homeland security solutions, DHS said.
Private-sector partners in SVIP are eligible to receive up to $800,000 in non-dilutive funding over four phases to adapt commercial technologies for use in homeland security.
DHS said UW-APL will perform work in parallel with AppCensus' work to implement DCT app testing features in its platform, which was originally designed to analyze the runtime behaviors of mobile apps and assess their security.
AppCensus is performing the task under a $198,600 deal awarded through a Phase 1 SVIP award under the Emerging Needs: COVID-19 Response & Future Mitigation solicitation.
DHS explained that while AppCensus' project is focused on adapting its infrastructure, UW-APL's work will be focused on determining what needs to be tested in DCT apps.
Category: Federal Civilian
Tags: Anil John AppCensus Applied Physics Laboratory Department of Homeland Security DHS digital contact tracing federal civilian policy Silicon Valley Innovation Program SVIP University of Washington UW-APL