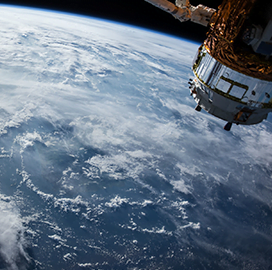 Satellite technology
US Allies to Test Space Force's New GPS Security Capability
The Space Force announced that it has entered into a three-year agreement to allow U.S. allies to test the service's new anti-spoofing and anti-jamming capabilities.
The encrypted M-Code programming language was designed to serve as a highly accurate signal, providing more resilient Global Positioning System access to warfighters, C4ISRNET said Thursday.
Canada, France, Germany, the United Kingdom and South Korea are scheduled to receive the technology. The Space Force said Australia, Italy, Sweden and the Netherlands are expected to join later in the year.
The Space Force is temporarily using M-Code Early Use, a lite version of the M-Code signal that the service commissioned Lockheed Martin to build in 2017. MCEU was declared operational in November.
C4ISRNET previously reported that MCEU is expected to allow the Space Force to task, upload and monitor M-Code within the GPS constellation.
The early-use version of the ground system was declared operational in November, allowing warfighters with appropriate equipment to request access to the M-Code signal.
The project will later be transitioned to Raytheon Technologies' $6.2 billion Next Generation Operational Control System, which is reportedly five years behind schedule.
Outside the defense community, federal civilian agencies are also taking steps to improve the cybersecurity of positioning, navigation and timing services.
The National Institute of Standards and Technology published a PNT profile in February aimed at helping organizations manage risks to systems, networks and assets such as GPS.
The profile includes a comprehensive list of PNT cybersecurity references to help most types of users tailor NIST's approach to their own systems, according to profile co-author Jim McCarthy.
Category: Space
Tags: C4ISRNET Canada France Germany Global Positioning System GPS jamming Jim McCarthy M-Code M-Code Early Use MCEU NIST PNT South Korea space Space Force spoofing United Kingdom