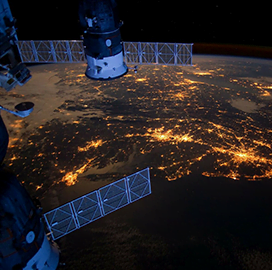 Space-based technology
US Army to Experiment With Tactical Space-Based Sensors
The U.S. Army announced that it has approved a document needed to start rapidly experimenting and prototyping capabilities for tactical space-based sensors.
With the signing of the Tactical Space Layer abbreviated capability development document, the Army will begin exploring the potential of satellites in low-Earth orbit to give soldiers dedicated surveillance, navigation and imaging capabilities, SpaceNews reported Monday.
"The tactical space layer will provide deep area sensing, rapid targeting and unmatched battlefield situational awareness," said Travis Tallman, director of the Army Futures Command's tactical space signature effort.
Tallman added that the TSL will enable long-range precision fires and ground maneuvers should the Global Positioning System be jammed during conflict.
The TSL will be integrated with the Army's Tactical Intelligence Targeting Access Node, a new intelligence ground station deemed critical for shortening the sensor-to-shooter timeline.
Several Army components, including Space and Missile Defense Command, were involved in the approval of the abbreviated capability development document.
SMDC provided the critical science and technology capabilities development support to the cross-functional team responsible for the project, Inside Defense reported Monday.
The Army's Assured Position, Navigation and Timing/Space Cross-Functional Team is scheduled to conduct live fire exercises later in the year. The prototype evaluation will be done by U.S. Army Pacific and U.S. Army Europe, ExecutiveGov reported Tuesday.
The CFT will also test the TSL prototypes during Project Convergence at Yuma Proving Ground in Arizona and White Sands Missile Range in New Mexico.
Project Convergence is a multi-platform initiative aimed at merging joint force capabilities. The effort is the Army's contribution to the Department of Defense's joint all-domain command and control concept.
Category: Space
Tags: APNT/Space PNT Army Army Futures Command ExecutiveGov LEO PNT Project Convergence prototype SMDC Space and Missile Defense Command SpaceNews tactical sensor Tactical Space Layer TSL