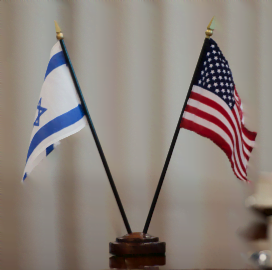 Joint cyber exercise
US, Israel Cyber Defenders Hold Joint Exercise Simulating Malicious Attacks
The Air Force's 837th Cyberspace Operations Squadron recently lent its expertise in cloud defense to improve the skills of international partners and the other services. The squadron conducted a cyber exercise in a cloud-based simulation where operators had to protect the medical data of fictional citizens from malicious attacks, C4ISRNET reported Friday.
Cyber Dome, a joint U.S. Cyber Command and Israel Defense Forces exercise in December, sought to game cloud defense in an effort to strengthen the cyber partnership between the two nations and share tactics. The 837th was specifically chosen to participate in the exercise's sixth iteration because it has developed expertise in the tradecraft for defending clouds, according to its commander.
Lt. Col. Steven Payne, head of the 837th, told reporters that such exercises give airmen a chance to practice things that they do not necessarily get a chance to do on a daily basis. He explained that while the squadron does not work directly with the Israeli government in an operational sense, exercises like Cyber Dome allow the sharing of expertise to improve collective cyber defense.
Payne observed that the Israelis brought with them a different mindset to cyber defense, brought about by the different geopolitical scenarios or situations to which they have been exposed. Exercise participants described this sharing of tactics and experiences as a key takeaway from the event, it was revealed.
For its part, the IDF's Cyber-Communications and Defense Division told journalists that the joint exercise demonstrates the strategic partnership between the two militaries, which allows both to achieve cyber network superiority. The drill included training for "a variety of cyber defense challenges," spokespersons for the CCDD added.
Cloud services, while not entirely new, are an increasingly important component of networks and therefore prime targets for malicious cyber actors. The military is beginning to transition much of its infrastructure into cloud environments and must be adept at fending off intrusions and understanding this terrain, C4ISRNET further reported.
Category: Cybersecurity
Tags: Air Force C4ISRNET cloud defense Cyber Dome cyber exercise cyber squadron cybersecurity Steven Payne