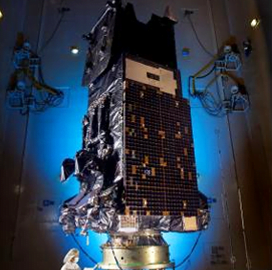 SBIRS GEO-5 satellite
US Space Force Eyes May Launch for SBIRS GEO-5 Satellite
The U.S. Space Force is set to launch the fifth Space Based Infrared System satellite on May 17 aboard a United Launch Alliance Atlas 5 rocket.
The SBIRS GEO-5 satellite was built by Lockheed Martin in December and was sent to Cape Canaveral, Florida, last week ahead of its launch. Lockheed touted SBIRS GEO-5 as the first military satellite to use its new LM 2100 combat bus, SpaceNews reported Thursday.
The newly built geosynchronous satellite will become the penultimate addition to the SBIRS program, which was originally intended for the now defunct Air Force Space Command.
The SBIRS program was launched to build replacements for the early warning satellites that were deployed in the 1970s as part of Northrop Grumman's Defense Support Program.
SBIRS satellites provide long-range surveillance and target detection capabilities to help carry out missile warning, missile defense, technical intelligence and battlespace awareness missions.
Four SBIRS satellites, all developed by Lockheed, are currently in orbit. The first two satellites were launched two years apart in 2011 and 2013. The GEO-3 satellite was launched in 2017 followed by the GEO-4 in 2018.
A sixth and final SBIRS satellite is currently under development. The SBIRS GEO-6 is also being built using LM 2100 and is projected to launch in 2022.
In addition to building SBIRS satellites, Lockheed is under contract to build three geosynchronous Next-Generation Overhead Persistent Infrared satellites for the Space Force. The satellites are intended to serve as early warning systems for ballistic or tactical missile launches anywhere on the globe.
Category: Space
Tags: LM 2100 bus Lockheed Martin Next-Generation Overhead Persistent Infrared SBIRS GEO-5 space Space Based Infrared System Satellite SpaceNews US Space Force