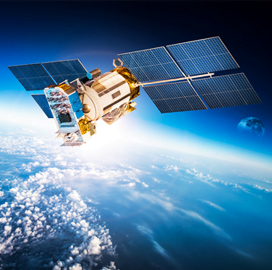 Satellite technology
US Space Force Nearing Completion of EGS Prototype Phase, Official Says
The U.S. Space Force Space and Missile Systems Center has nearly completed the prototype phase of its Enterprise Ground Services project, an official said.
SMC's Cross Mission Ground and Communications Enterprise is developing the EGS to have a common architecture for satellite command and control.
Joshua Sullivan, program manager for EGS, said he expects SMC to coordinate a finalized acquisition strategy with the Space Force by fiscal year 2022, Breaking Defense reported Thursday.
The objective of EGS is to create a modular command and control system that operators can adapt to different mission scenarios. Breaking Defense explained that the goal is not to establish a single end-to-end ground system or regulation terminal.
Lt. Col. Kellie Brownlee, head of SMC's future ground integration branch, said EGS will still have a core set of capabilities that will serve as a baseline for operators.
The Air Force launched the EGS effort in 2014. In August 2018, the Air Force Satellite Control Network required that all Air Force satellite programs be transitioned to EGS by December 2028.
The Department of Defense inspector general conducted a review of the EGS project in March 2020, concluding that the Air Force had demonstrated progress in developing an overall implementation plan.
The Air Force had not been required to have an overall implementation plan until the completion of the EGS project's prototype phase.
According to senior Air Force officials, a shared command and control system for space elements would allow operators to focus on satellite missions rather than on different satellite software applications and equipment.
Category: Space
Tags: Air Force Breaking Defense C2 command and control Cross Mission Ground and Communications Enterprise EGS Enterprise Ground Services Joshua Sullivan Kellie Brownlee satellite SMC space Space and Missile Systems Center Space Force