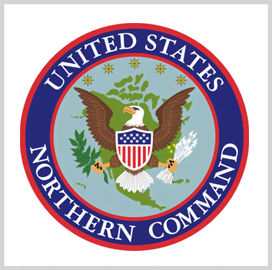 US Northern Command
USNORTHCOM Leads Development of AI Tech for JADC2 Implementation
Prototyping and testing of various artificial intelligence tools designed for the Joint All Domain Command and Control effort are ongoing within the U.S. Northern Command, according to officials.
In an interview with Breaking Defense, the officials said that AI technology will pull together different types of data to provide commanders with a clear picture of the battlefield. Situational awareness, powered by AI, will enable commanders to make good and fast decisions, the officials noted.
The prototype projects are financially and contractually supported by the Department of Defense, including the Joint Artificial Intelligence Center's Project Maven, Breaking Defense reported.
Col. Matt Strohmeyer, the USNORTHCOM J8 JADC2 development lead, announced that the command will lead a virtual exercise from March 18 to 23 to test three so-called decision aids, which will accelerate the ability of commanders to act.
The exercise, called Global Information Dominance Exercise 2, will feature AI algorithms that enable all-domain situational awareness, information dominance and real-time collaboration among combatant commands, Strohmeyer said.
The command's ultimate goal is to transition the technology to the military services to integrate them into acquisition programs supporting the JADC2 implementation, as well as the Joint Warfighting Strategy.
The J6 Command, Control, Communications and Computers/Cyber Directorate, which is led by Lt. Gen. Dennis Crall, and the J7 Joint Force Development Directorate, which is headed by Vice Adm. Stuart Munsch, are also helping NORTHCOM in the prototyping and testing activities.
The upcoming exercise is the second in a planned series of GIDE events.
The first exercise was conducted in December 2020, in coordination with the U.S. Southern Command, Indo-Pacific Command, Transportation Command, Strategic Command and the Office of the Undersecretary of Defense for Intelligence and Security, according to a spokesperson for USNORTHCOM.
Category: Defense and Intelligence
Tags: AI AI tools artificial intelligence Breaking Defense Defense and Intelligence Dennis Crall Department of Defense DoD GIDE 2 Global Information Dominance Exercise 2 implementation INDOPACOM JADC2 Joint All-Domain Command and Control Matt Strohmeyer NORTHCOM Northern Command Project Maven STRATCOM Stuart Munsch USSOUTHCOM USTRANSCOM