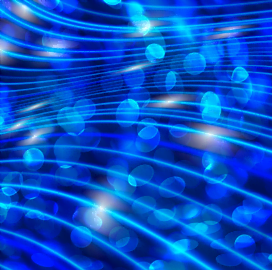 Quantum information
science
USRA, DARPA Begin Second Phase of Quantum Computing Collaboration
The Universities Space Research Association, a nonprofit organization under the National Academy of Sciences, has launched the second phase of its quantum computing project with the Department of Defense.
Under the terms of a new award, USRA will continue working on the Defense Advanced Research Projects Agency's Optimization with Noisy Intermediate Scale Quantum devices program.
The goal of ONISQ is to improve the performance of quantum computers to increase their impact on future military applications, USRA said Thursday.
As part of the second phase of ONISQ, USRA will continue testing quantum processors developed by Rigetti Computing, a Berkeley, California-based developer of quantum integrated circuits and cloud platforms.
USRA said that the project will also feature the 80-qubit quantum processor called Aspen-M that Rigetti unveiled in December 2021. Rigetti called Aspen-M the "world's first commercial multi-chip quantum processor, solving a critical scaling challenge in the race toward fault-tolerant quantum computing."
Davide Venturelli, science operations manager of USRA's Research Institute of Advanced Computer Science, said that ONISQ will help bridge the difference between what is theoretically possible in quantum computing to what is actually possible.
The collaborators will spend the next two and a half years combining internally developed technologies with quantum computer benchmarking methods developed by the scientific community and the private sector, USRA said.
According to the association, ONISQ has already produced more than 10 scientific papers that are either been presented to the public or are under review.
Category: Defense and Intelligence
Tags: Davide Venturelli Defense and Intelligence Department of Defense emerging technology OSINQ quantum computing Rigetti Computing Universities Space Research Association