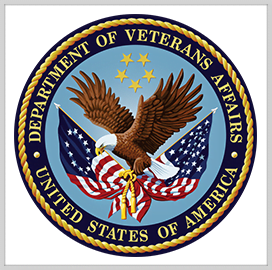 Department of Veterans
Affairs
VA Issues RFI for Strategic Planning Support
The Department of Veterans Affairs' Office of Information and Technology has updated its request for information on industry's ability to meet its strategic planning support requirements.
The purpose of the RFI is to determine whether industry can support the strategic planning functions of the OIT's enterprise strategic planning and governance directorate.
Functions covered in the RFI include enterprise IT strategic planning, creating an IT strategic planning ecosystem and developing an IT enterprise roadmap, according to an announcement posted on SAM .gov.
Specific deliverables are detailed in an accompanying draft performance work statement.
The selected contractor will first have to come up with a contractor management plan detailing approaches, timeline and tools related to the execution of the requirement. It must cover project planning, design, implementation and closeout.
The winning contractor must also finalize, implement and maintain a strategic planning ecosystem, which is a detailed process map, ensuring coordination of strategic planning efforts across OIT and VA.
The IT enterprise roadmap required by the OIT must detail the milestones of major IT programs, technology advances and capabilities. It is meant to help the OIT communicate with internal and external stakeholders regarding advances in technology and system enhancements.
The resulting contract from the RFI will include a one-year base period and two 12-month option periods.
It is also inclusive of three optional tasks, including providing IT governance and governance surge support, as well as performing a wide variety of special studies and other analysis.
Responses to the notice are due March 3.
Category: Digital Modernization
Tags: digital modernization Enterprise Strategic Planning and Governance Directorate IT enterprise roadmap Office of Information & Technology request for information RFI SAM.gov Strategic Planning Ecosystem Veterans Affairs