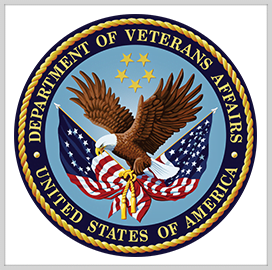 Department of Veterans
Affairs
VA Publishes Ethics Principles for Veteran Data Use
The Department of Veterans Affairs has published a set of ethical principles for accessing and using veteran data.
The nine principles are aimed at upholding data privacy and protection standards in the national distribution of coronavirus vaccines and other critical health care services during the pandemic, VA said Monday.
"VA's principle-based ethics framework takes a proactive approach to data management and privacy by setting standards for our partners to follow," said Richard Stone, VA's acting undersecretary for health.
Stone said the ethics framework will be applied to all data interoperability initiatives, including those linked to the department's coronavirus response and modernization efforts.
The nine principles were designed to ensure the safe and responsible use of data, with a focus on personally identifiable information such as medical data.
VA said the principles should be adopted by all parties that oversee access to and use of veteran data. They will apply the principles based on the context of the specific clinical, technical, fiscal, regulatory, professional or industry application.
The framework was created by the Data Ethics Work Group established by the VA Interoperability Leadership team and the Veterans Health Administration's National Center for Ethics in Health Care.
VA said it will work to ensure that the principles are reflected in all directives, policies and standards.
In January, President Joe Biden signed a series of executive orders aimed at controlling the coronavirus pandemic and protecting the American public. The executive plan highlights a heavy reliance on data and efforts to improve data collection, Nextgov previously reported.
One executive order, titled "Ensuring a Data-Driven Response to COVID-19 and Future High Consequence Public Health Threats," is focused on the federal government's collection, production, sharing and analysis of data to support an effective response.
Category: Federal Civilian
Tags: data Department of Veterans Affairs ethics Executive Order federal civilian health interoperability Joe Biden Nextgov principles Richard Stone VA veteran