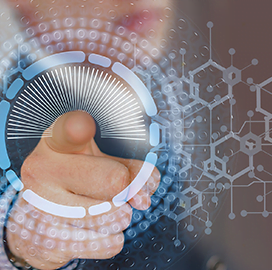 Digital modernization
VTG Begins Tech Integration Work on Navy's DISC Program
VTG, a defense technology company, said it has begun providing data and technology integration services for the Naval Digital Integration Support Cell program.
Work is being done under a three-year $13 million prime contract aimed at enabling digital transformation across all areas of naval operations, VTG said Wednesday.
John Hassoun, president and CEO, said VTG will use its expertise in model-based systems engineering and DevSecOps to help DISC achieve distributed maritime operations and maintain a competitive advantage at sea.
The Navy created DISC in December 2018 to accelerate the modernization of naval digital warfighting capabilities, according to the Presidential Innovation Fellows.
DISC is the second direct report program manager in the Navy, reporting directly to the assistant secretary of the Navy for research, development and acquisition.
VTG said it will perform research operational analysis, specialized engineering and development work in support of the Navy and Marine Corps' model-based systems engineering methodology.
The tasks include developing objective architectures, standards and processes for integrated naval capability, decision tools, digital pilots and artificial intelligence, VTG added.
The contract was awarded to DELTA Constellation Group, a joint venture between VTG and Constellation Software Engineering.
The Air Force's 774th Enterprise Sourcing Squadron awarded the contract under the Department of Defense Information Analysis Center's multiple-award contract vehicle, whose stated objective is to expand the Defense Technical Information repository for the benefit of the research and science community.
DELTA Constellation Group won a spot on the small business category of IAC MAC in May 2019.
Category: Digital Modernization
Tags: 774th Enterprise Sourcing Squadron Constellation Software Engineering data DELTA Constellation Group Department of Defense DevSecOps Digital Integration Support Cell digital modernization DISC DoD IAC John Hassoun MBSE Navy Presidential Innovation Fellows technology integration VTG