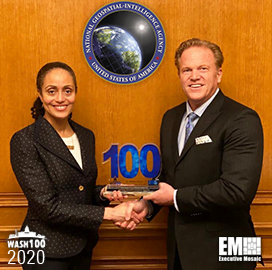 Stacey Dixon and
Jim Garrettson
NGA Deputy Director Stacey Dixon Wins First Wash100 Award
National Geospatial-Intelligence Agency Deputy Director Stacey Dixon, a past Potomac Officers Club event speaker, has won her first Wash100 award from Executive Mosaic. As part of the 2020 Wash100 selection, Executive Mosaic founder and CEO Jim Garrettson presented the award in recognition of Dixon's efforts to diversify and educate NGA's workforce, GovCon Wire reported.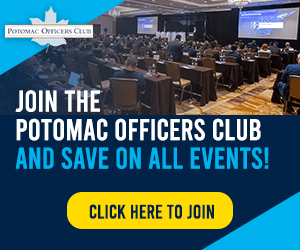 She was appointed to her current role on June 23, 2019, after serving as the director of the Intelligence Advanced Research Projects Agency. In her current position, Dixon supports fellow 2020 Wash100 awardee Vice Adm. Robert Sharp in leading NGA. 
"Dr. Dixon is a proven leader who has a deep understanding of NGA and the entire intelligence community, its current challenges and the bright opportunities that lie ahead," Sharp said in a statement about Dixon's appointment.
Dixon joined NGA as chief of congressional affairs in 2010 and has since held various other leadership positions at the agency, including director of information integration office and deputy chief of the research and development directorate.
She championed gender equality and diversity within NGA and the wider federal government. Dixon also helped launch online training programs for professionals across different sectors to improve NGA's workforce. 
Wash100 is an annual selection of the most influential personalities in government contracting. The award honors executives and government officials who have demonstrated skills in leadership, innovation, reliability, achievement and vision in the sector.
The recipients of the award are determined through nominations from the government contracting community and the discretion of the Executive Mosaic team.
Category: Speaker News
Tags: diversity Executive Mosaic GovCon Wire IARPA Jim Garrettson National Geospatial-Intelligence Agency NGA Potomac Officers Club Robert Sharp Speaker News Stacey Dixon Wash100 workforce