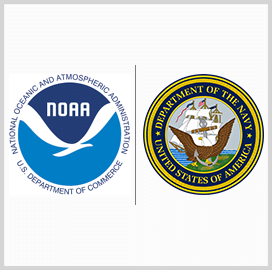 NOAA and US Navy
NOAA Forms Unmanned Maritime Systems Partnership With Navy
The National Oceanic and Atmospheric Administration has signed a memorandum of understanding with the Navy focusing on unmanned maritime systems initiatives and on developing policies governing their operations. 
During an interview with USNI News, Charles Alexander, chief of the planning and performance management division at the NOAA Office of Marine and Aviation Operations, said the agency intends to test and evaluate marine unmanned systems at the Navy's test ranges and facilities. The NOAA-Navy partnership is also expected to result in the development of an autonomous technology that would allow unmanned maritime vehicles to avoid other vehicles while observing compliance with the international maritime rules of the road, USNI News reported Thursday. 
Enabling oceanographic data interoperability between the NOAA and the Navy is one of the partnership's other key objectives. While the organizations do not have the same protocols, Alexander noted that data sharing is something that can be easily addressed owing to some of the progress made at the NOAA.  
The Navy also wants to know how the NOAA goes about gathering research data contract-wise. Specifically, Alexander said the Navy is interested in how the NOAA uses data as a service from companies, where the agency purchases data gathered by platforms such as sail drones. 
The partnership between the NOAA and the Navy came about as a result of the Commercial Engagement Through Ocean Technology Act of 2018. Language under the legislation mandated the NOAA to "coordinate research, assess and acquire unmanned maritime systems with the Navy, other federal agencies, industry and academia."
Both organizations value unmanned systems for their ability to provide a persistent sensor picture of a certain area. Currently, the Navy deploys the MQ-4 Triton unmanned aerial vehicle to perform day-long surveillance on open oceans. The NOAA, on the other hand, could use persistent sensors to gain a better understanding of hard-to-study species, like whales, or subjects like ocean salinity.
Category: Future Trends
Tags: Charles Alexander Commercial Engagement Through Ocean Technology Act of 2018 Future Trends Memorandum of Understanding National Oceanic and Atmospheric Administration NOAA persistent sensor Roger Wicker U.S. Navy unmanned maritime systems unmanned systems USNI News