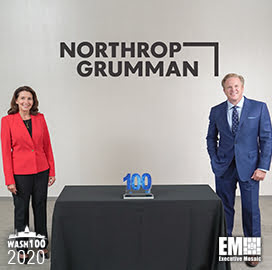 Kathy Warden
and Jim Garrettson
Northrop Grumman CEO Kathy Warden Awarded Fifth Wash100 Award
Kathy Warden, the chairman, CEO and president of Northrop Grumman, has received her fifth Wash100 award from Executive Mosaic due to her leadership and vision in advancing U.S. military technology.
"Our nation is facing a rapidly evolving threat environment and protecting our citizens with a modern strategic deterrent capability has never been more critical," said Warden who also bagged Wash100 awards in 2015, 2017, 2018 and 2019.
Executive Mosaic bestows the Wash100 award upon leaders and executives making a difference in the government contracting sector. 
Warden is credited with driving Northrop's growth and security major government contracts. The company most recently secured a $13.3B Air Force contract to build the Ground-Based Strategic Deterrent intercontinental ballistic missile.
The deal covers weapon system design, test and evaluation and nuclear certification to replace the United States' ICBM system.
Under Warden's leadership, Northrop also secured a $164M Army contract to supply mast-mounted assembly and radar electronics for AH-64E Apache helicopters in partnership with Lockheed Martin.
Warden championed the Robotic Servicing of Geosynchronous Satellites program, an effort by the Defense Advanced Research Projects Agency to expand the capabilities of American satellites and space technology.
"It opens up the market in that regard and clearly is an indicator that we would be able to service not only commercial but potentially government satellites as well. When we look at the market, we are bullish but cautious in that this is the first of a kind," Warden said. 
Executive Mosaic is an international leadership organization and media company that serves as a news source for government contracting industry professionals. 
Category: Popular Voices
Tags: CEO chairman Defense Projects Research Projects Agency executive GovConWire government contracting Ground Based Strategic Deterrent Intercontinental Ballistic Missile Jim Garrettson Kathy Warden Lockheed Martin Northrop Grumman Popular Voices President radar electronics Robotic Servicing of Geosynchronous Satellites U.S. Air Force Wash100