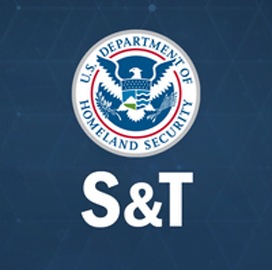 DHS Science
and Technology
Directorate
NYSTEC to Help DHS S&T Scout Technologies
The Department of Homeland Security Science and Technology Directorate has tapped the New York State Technology Enterprise Corporation to help with technology scouting. 
DHS S&T may now take advantage of NYSTEC's extensive public safety network of state and local law enforcement and transit authorities within the Northeast Region of the United States, Intelligence Community News reported.
Under a partnership intermediary agreement, NYSTEC will use its technology transfer and commercialization functions to help DHS S&T identify new technologies, conduct industry outreach and support startups through the IgniteU technology accelerator program.
The IgniteU is an accelerator program for entrepreneurs of operational startups. The experimental program is aimed at helping companies with business development, financial issues and leadership management development.
Partnership intermediaries help in assisting, counseling, advising, evaluating or cooperating with small business firms and educational institutions. 
The DHS' partnership intermediary program was created to take advantage of the partnership intermediaries' specialized skills in advancing technology transfer and commercialization. 
Partnership intermediaries such as NYSTEC are nonprofit entities that can help federal government agencies with technology scouting, horizon scanning, design reviews, prototyping, technology assessments and evaluations, technology acceleration, business development, marketing and outreach, training and events. 
NYSTEC is a 501(3) nonprofit consultancy that provides expert technical assistance to support technology initiatives at the state, local and national levels. 
The organization has served as the partnership intermediary for the Air Force Research Laboratory and DHS S&T, supporting the latter's Transition to Practice program for cybersecurity technologies.
Category: Partnerships and Executive Moves
Tags: accelerator AFRL Air Force Research Laboratory Department of Homeland Security DHS DHS-ST IgniteU Intelligence Community New York Technology Enterprise Corporation NYSTEC scouting technology Transition to Practice