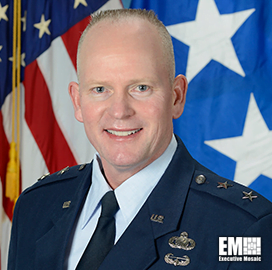 Michael Schmidt,
PEO C3I&N,
US Air Force
Outgoing C3I&N Chief Michael Schmidt Highlights Team's Role in Connecting Warfighters
Maj. Gen. Michael Schmidt, the outgoing program executive officer for command, control, communications, intelligence and networks, has highlighted his team's role in sustaining the U.S. Air Force's enterprise networks.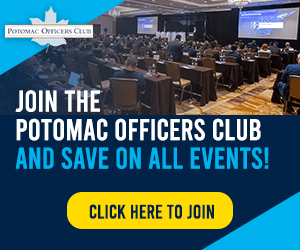 Schmidt, a speaker at a past Potomac Officers Club event, said that C3I&N's work in connecting service members supports the Air Force's buildout of the Advanced Battle Management System.
ABMS serves as the Air Force's contribution to the Department of Defense's larger Joint All-Domain Command and Control plan.
C3I&N manages a portfolio of 2,600 personnel and a budget of about $12.1 billion, which the team uses to develop cyber, cryptologic and kill chain systems, among others, the Air Force Materiel Command said Wednesday.
"It's our job to deliver those enterprise capabilities to the DOD, which is absolutely foundational to the future of our Air Force if we're going to stay ahead of our adversaries," Schmidt said.
He added that C3I&N's programs are a key element of the seven operational imperatives laid out by Department of the Air Force Secretary Frank Kendall, a three-time Wash100 winner and a scheduled speaker at an upcoming POC event.
On June 28, Schmidt will become the director of the Joint Strike Fighter program under the Office of the Secretary of Defense. In the early 2000s, he served as the DOD's lead program element monitor for the F-35, a product of the JSF program.
He was also a part of a program office that oversaw the training and equipping of F-35 systems, in addition to holding various F-35 support positions on Capitol Hill.
Schmidt will be promoted to the grade of lieutenant general once he assumes his new role.
Category: Speaker News
Tags: Air Force Materiel Command C3I&N F-35 Frank Kendall JADC2 Joint Strike Fighter Michael Schmidt Speaker News