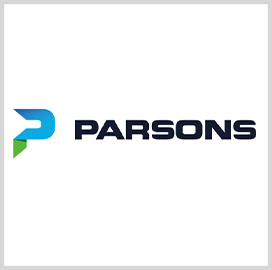 Parsons
Parsons Announces SharkSeer 2.0 Task From DISA
Parsons been awarded a SharkSeer 2.0 task order under the Defense Information Systems Agency's Systems Engineering, Technology and Innovation contract.
The firm-fixed-price deal includes a one-year base period of performance and four option years. The contract would have a value of $28M if all options are exercised.  
"Leveraging the DoD's expertise and product integration with Parsons' strong credentials in defensive cyber operations capability development will produce an affordable and powerful solution that protects the department's digital infrastructure," said Veronica Kazaitis, senior vice president of business development for cyber and intelligence.
SharkSeer is an artificial intelligence-powered program designed to protect the Department of Defense's networks by scanning incoming traffic for vulnerabilities, Fifth Domain previously reported.
According to Parsons, the enterprise boundary defense system identifies and mitigates zero-day cyberattacks and advanced persistent threats to protect the Pentagon's networks. 
Zero-day vulnerabilities are a type of computer-software vulnerability that exists after release and before the developer patches out newly discovered flaws. 
The scope of Parsons' contract includes the migration, integration, testing, operations and maintenance, streamlining, optimization, enhancement and simplification of all SharkSeer functions across seven operational boundaries.
SharkSeer 2.0 is expected to enhance the program's original operational capability with better architecture and new task requirements. Parsons noted that it was involved in the original design and execution of the SharkSeer program.
"We look forward to partnering with DISA to develop new and creative defensive cybersecurity capabilities that will further enhance the program," Kazaitis said.
Headquartered in Centreville, Virginia, Parsons is an information technology and services company that specializes in cybersecurity, missile defense, space, connected infrastructure and smart cities, among others.
Category: Future Trends
Tags: artificial intelligence contract cybersecurity Defense Information Systems Agency Department of Defense Fifth Domain firm-fixed-price Future Trends Parsons SETI SharkSeer SharkSeer 2.0 task order Veronica Kazaitis vulnerability zero-day