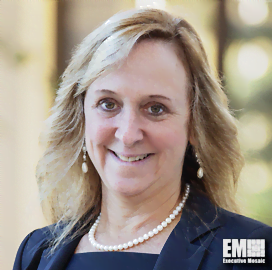 Carey Smith,
President and CEO,
Parsons
Parsons CEO, President Carey Smith Takes On Responsibilities as Board Chairwoman
Parsons has announced that its president and CEO, Carey Smith, was elected as its board of directors' next chairperson, effective April 14.
Smith, a member of the Potomac Officers Club, will succeed Executive Chairman Charles Harrington, who will retire on the same date after serving at the company for 40 years, Parsons said Monday.
Steven Leer, Parsons' newly elected lead independent director, said he is confident in Smith's ability to take advantage of the company's growth opportunities and deliver its integrated solutions.
Smith joined Parsons in 2016 as the president of its federal solutions business. In 2018, she was appointed chief operating officer, a role responsible for delivering proper operational controls, reporting procedures, metrics and others, according to her LinkedIn profile.
Parsons promoted her to president and chief operating officer in 2019, giving her additional back office responsibilities related to information technology, security, facilities, procurement, program excellence, sustainability and quality. Smith assumed her current position as president and CEO in July.
Prior to joining Parsons, Smith served as president for defense and space at Honeywell Aerospace. She also served as the company's vice president for customer and product support as well as president of its technology solutions unit.
Executive Mosaic has inducted Smith four times into Wash100 in recognition of her success in winning key contracts for Parsons.
Smith earned a master of science in engineering from Syracuse University as well as a bachelor's degree and an honorary doctorate in engineering from Ohio Northern University.
Category: Member News
Tags: Carey Smith Executive Mosaic executive movement Honeywell Aerospace LinkedIn Member News Parsons Wash100