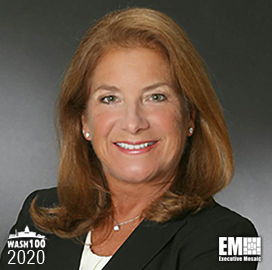 Parsons Elects Letitia Long Into Board of Directors
Parsons, a defense technology company, has appointed defense 2020 Wash100 winner Letitia Long into its board of directors. She brings into the position over nearly four decades of experience in major defense roles in federal agencies. 
Parsons shareholders elected Long during a meeting held April 21, the company announced Tuesday. 
She most recently served as the director of the National Geospatial-Intelligence Agency, where she is credited with facilitating the adoption of open-source software development and the delivery of critical information to first responders during natural disasters.
Parsons CEO Chuck Harrington, a 2020 Wash100 awardee, said he is eager to have Long contribute to the company's business with the Intelligence Community.
"The world will never fully comprehend Letitia's impact on upholding global security," Harrington said.
Long's other prior roles include deputy director at the Defense Intelligence Agency, deputy undersecretary of defense for intelligence at the Office of the Secretary of Defense and deputy director of naval intelligence at the Office of the Chief of Naval Operations.
The government has honored Long with the DOD Medal for Distinguished Civilian Service, Presidential Rank Award of Distinguished Executive, Navy Distinguished Civilian Service Award, Presidential Rank Award of Meritorious Executive and National Intelligence Distinguished Service Medial.
In 2011, the Armed Forces Communications and Electronics Association granted her the Charlie Allen Award for Distinguished Intelligence Service. Long has also been recognized by the governments of Norway, France and Poland.
She earned a master's degree in mechanical engineering from the Catholic University of America and a bachelor's degree in electrical and electronics engineering from Virginia Polytechnic Institute and State University.
Category: Partnerships and Executive Moves
Tags: Board of Director Catholic University of America Chuck Harrington Department of Defense DISA Intelligence Community Letitia Long National Geospatial-Intelligence Agency OpNav Parsons Partnerships and Executive Moves Secretary of Defense Virginia Tech