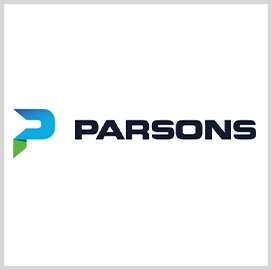 Parsons Lands $950M Contract to Support Air Force's ABMS
Parsons, a defense technology company, has landed a $950M contract to mature technological platforms and capabilities in support of the Air Force's Advanced Battle Management System, the company announced Wednesday. 
"We look forward to improving connectivity in support of the Air Force's Advanced Battle Management System mission. Our agile software development and innovative joint-domain solutions deliver operational value in battle management and command and control," said Jay Lennon, Parsons' vice president of multi-domain solutions.
ABMS is the Air Force's effort to overhaul the U.S. military's command-and-control infrastructure to allow platforms to instantly and seamlessly share information with weapon systems on the battlefield. 
The contract is an indefinite-delivery/indefinite-quantity deal designed to enable joint all-domain command and control for the Air Force.
JADC2 is the concept of command and control system for improving situational awareness, rapid decision making and the ability to direct forces across multiple domains, according to the Congressional Research Service. 
Lennon added that the company's technologies will provide Air Force operators with timely and actionable intelligence to achieve mission success.
The company said the contract is part of a multiple-award, multi-level security effort to develop systems as a unified force across land, sea, space and cyber in an open architecture family of systems.  
Parsons is a technology company headquartered in Centreville, Virginia. It provides capabilities in cybersecurity, missile defense, space, connected infrastructure and smart cities.
The company also specializes in engineering, construction, program management, infrastructure, environment, defense, security, sustainability, intelligence and digital solutions, according to its LinkedIn profile.
It serves customers in the global sectors for defense, intelligence and critical infrastructure.  
Category: Contract Vehicles
Tags: ABMS Advanced Battle Management System Contract Vehicles IDIQ JADC2 Jay Lennon Joint All-Domain Command and Control Parsons software development