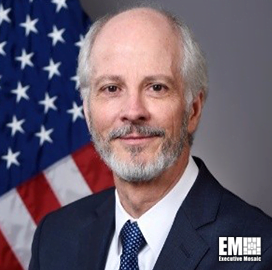 Patrick Mason
Department Head
Office of Naval Research
Patrick Mason, Department Head for Warfighter Performance at ONR
Dr. Patrick Mason serves as the department head for warfighter performance at the Office of Naval Research, a role he has held since February 2017. 
He is in charge of managing, evaluating and maintaining basic research, applied research and advanced technology programs to address the operational requirements of the Department of the Navy.
Mason oversees the research activities in the areas of autonomy, biological sciences, cognitive science, human-systems integration, irregular warfare, manpower, personnel and training, medicine related to naval operations, neuroscience, socio-cultural sciences, and warfighter performance and resiliency.
He is also a consultant and advisor to the chief of Naval Research and other leaders in the DoN, Department of Defense, other government agencies, industry and academia. 
A member of the Defense Acquisition Corps., Mason is systems planning, research, development and engineering – level III and science and technology manager – level III certified.
In addition, he has experience collaborating with professional staffers from the Senate Armed Services Committee and the House Armed Services Committee on Authorization and Appropriation-related issues. 
Since 2011, Dr. Mason has served as the U.S. national representative on the Technical Cooperation Program – Human Resources and Performance Group and as the voting member on the North Atlantic Treaty Organization – Human Factors and Medicine Panel.
Before joining ONR, Mason served for five years as the director for the human performance, training and biosystems directorate in the Office of the Assistant Secretary of Defense for research and engineering. 
During his stint, he provided technical leadership, management oversight, policy guidance and coordination for the more than $3B yearly in research and engineering programs in the DoD, ensuring the areas were focused and relevant. 
Mason earned his bachelor's degree in biology and psychology from the University of California, San Diego and holds a doctorate in physiological psychology and neuroscience from McGill University.
Category: Executive Profiles
Tags: Department of Navy Executive Profiles LinkedIn Office of Naval Research Patrick Mason warfighter readiness