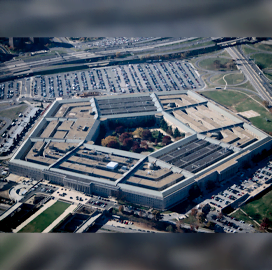 Pentagon
Pentagon Requests 30-Day Extension to Re-Award JEDI Cloud Contract
The Pentagon has requested for another month to resolve issues on a potential $10B cloud contract before issuing an award.
The Joint Enterprise Defense Infrastructure cloud contract is considered as the Department of Defense's biggest technology deal. The agency was scheduled to release a decision on its remand of the agreement on Aug 17. but sought a 30-day extension to Sept. 16, Fedscoop reported Monday.
DOD lawyers said the agency pinpointed the issues in the revised proposals from Microsoft and Amazon that led to numerous solicitation changes, a series of proposal amendments and negotiations with the offerors, all of which caused the delay. 
The agency anticipates the re-examination process will be over by the second week of September. Microsoft and Amazon agreed to the one-month deferral, according to the lawyers.
Dana Deasy, chief information officer of DOD and a 2020 Wash100 winner, said the agency was scheduled to re-award the JEDI contract by end-August. The Pentagon has already designed the cloud system but the deployment efforts have taken a back seat as the multibillion deal has been under investigation and constant protests for almost three years. Deasy was quoted as saying that DOD's major error was allowing the events surrounding the JEDI contract to get out of hand. 
DOD officials said the commercial cloud program will allow the global military systems at all levels from multiple military agencies to be connected into a unified infrastructure. The network is vital to promote the Pentagon's artificial intelligence initiatives.
The contract, which is nearly two years behind implementation, has been opposed four times. The Pentagon originally awarded Microsoft the deal in October 2019. The DOD issued a 120-day remand in March to rectify issues raised in a legal complaint by bidding competitor Amazon Web Services.
Category: Contract Vehicles
Tags: Amazon Web Services cloud computing commercial cloud program contract vehicle Contract Vehicles Department of Defense FedScoop JEDI Joint Enterprise Defense Infrastructure Microsoft