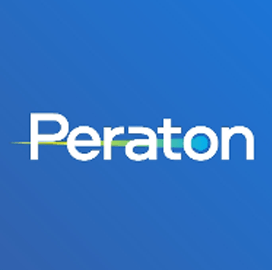 Peraton
Peraton Lands $188M in Warfighting Contracts
Peraton has been awarded $188M in contracts and add-on deals to provide systems development and mission capability integration. 
The awards will support government customers conducting critical national missions across a range of warfighting areas, the a national security company announced Wednesday.
"We are honored to support a comprehensive array of nationally-critical efforts. Our work goes beyond providing technology and solutions; we are deeply committed to the success and long-term sustainability of our customers' missions," said Mike King, Peraton's chief growth officer.
King said Peraton's technical experience and its pursuit of national security allows it to regularly meet or exceed the requirements of its government customers. 
Peraton provides a range of space, intelligence, cyber, defense, homeland security and communications capabilities, the company said in its press release.
It has partnered with government customers such as the Intelligence Community, the Department of Defense and select federal agencies and commercial entities.
Peraton is a privately held defense and space company headquartered in Herndon, Virginia. It offers services in advanced engineering, intelligence, civil work, health information technology, satellites, terrestrial work, electromagnetic spectrum management, according to its LinkedIn profile.
Its other specializations include cybersecurity, network infrastructure, rapid prototyping, research and development, enterprise IT, software development, cyber forensics, communications and careers. 
"Peraton measures success in the results achieved by the customers it supports – in the lives saved, knowledge acquired, battles won, and information secured," the company said in its press release.
Category: Contract Vehicles
Tags: communications contract award Contract Vehicles cyber defense DoD Homeland Security information technology intelligence Intelligence Community Mike King mission capability integration national security Peraton space systems development warfighting