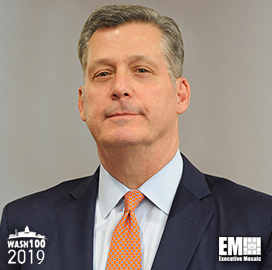 Mac Curtis
Perspecta Appoints Mac Curtis to Board of Directors
Mac Curtis, a Potomac Officers Club member and a 2020 Wash100 awardee, has been appointed to Perspecta's board of directors.  
Curtis currently serves as Perspecta's president and CEO and is responsible for the company's businesses in the defense, intelligence, civilian, health care and state and local markets, Perspecta said Wednesday.
"As president and CEO of Perspecta, Mac has delivered solid results, making Perspecta a leading U.S. government IT services provider focused on mission-critical outcomes," said Mike Lawrie, Perspecta's chairman who is set to retire on Aug. 5. 
Lawrie credited Curtis with seamlessly integrating legacy companies, enhancing Perspecta's solutions and services and developing its workforce. 
"Mac's deep industry knowledge, executive management skills and strategic and tactical capabilities make him ideally suited to lead Perspecta's continued growth as chairman," Lawrie added. 
Before he joined Perspecta in June 2018, Curtis served as Vencore's president and CEO. In the said role, he was focused on developing growth strategies, reducing indirect costs and driving innovation and business development.
Curtis briefly served as a senior adviser at Veritas Capital, where he leveraged his expertise in federal market strategies, mergers and acquisitions, integration and developing operational synergies. 
He also spent nearly five years as the president and CEO of Vangent, an information technology and services company based in Arlington, Virginia. 
His other former roles include president and CEO at Pearson Government Solutions and vice president and government services general manager at NCS, according to his LinkedIn profile.
He earned a bachelor's degree in civil engineering from the Virginia Military Institute.
Category: Member News
Tags: board of directors executive movement Mac Curtis Member News Mike Lawrie Pearson Government Solutions Perspecta POC Potomac Officers Club Vangeant Vencore Veritas Capital