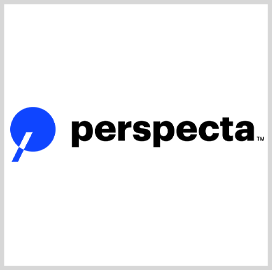 Perspecta
Perspecta Transfers Home of the Brave Campaign to Soldiers' Angels
Perspecta announced it has gifted the Home of the Brave veteran-focused campaign to Soldiers' Angels, a nonprofit organization based in San Antonio, Texas. 
Home of the Brave is a campaign that partners with the Department of Veterans Affairs Voluntary Service, among other organizations, to give employees and employers the chance to show their gratitude for veterans around Veterans Day. 
"At Perspecta, we are dedicated to honoring and supporting the men and women who have fought so bravely for our freedom and are proud to continue supporting our nation's heroes by serving as Soldiers' Angels Home of the Brave's title sponsor," said Perspecta CEO and Chairman Mac Curtis, Potomac Officers Club member and a six-time Wash100 winner. 
Curtis expressed confidence in Soldiers' Angels' ability to impactfully implement and maintain the program, noting that the organization already has a "robust network and established infrastructure for outreach." 
Home of the Brave began in 2012 and was brought by its founder to Perspecta in 2018 when the company was formed. The founder and her co-workers have honored over 165K veterans since the effort's inception.
The campaign works with sponsors to provide t-shirts, thank you cards, hygiene kits, blankets and other necessities to veterans at VA medical facilities. 
Today, over 120 VA medical centers nationwide are requesting to participate in Home of the Brave's 2020 campaign, according to Soldiers' Angels CEO and President Amy Palmer.
"Soldiers' Angels has a strong relationship with the VAVS and actively serves on the VA's National Advisory Council. It was a natural fit for us to acquire this program and continue its great work honoring and showing gratitude to every generation of veteran for the sacrifices made in service to our country," Palmer said. 
Category: Member News
Tags: Amy Palmer campaign Home of the Brave Mac Curtis Member News outreach Perspecta Potomac Officers Club San Antonio Soldiers' Angels Veterans Affairs Voluntary Service Texas VA medical facilities Veterans Day Wash100