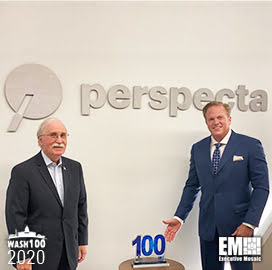 Barry Barlow and
Jim Garrettson
Perspecta's Barry Barlow Receives First Wash100 From Executive Mosaic
Barry Barlow, senior vice president and chief of staff at Perspecta, has received his first Wash100 award from Executive Mosaic.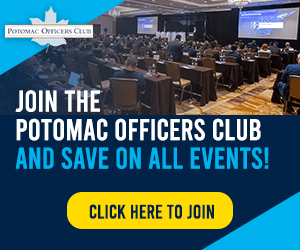 Executive Mosaic CEO Jim Garrettson presented the award in recognition of Barlow's role in the strategic growth of Perspecta and his contributions to valuable contract wins. Barlow is responsible for Perspecta's long-term technology strategy and vision. 
His team is in charge of growing the technical capabilities of their peers at Perspecta, ensuring technical relevance in the marketplace. 
Under Barlow's leadership, Perspecta secured multi-million-dollar contracts to help government agencies modernize their information technology and defense systems.
Perspecta recently received a potential seven-year, $740M contract to provide the Navy's Naval Information Warefare Center Pacific program with cyberspace science, research, engineering and technology integration services. 
"When you combine decades of experience on Navy programs and systems with a deep rooted heritage of advanced engineering capabilities and add an unmatched portfolio of innovative cyber solutions, you get Perspecta," Perspecta said. 
In September 2019, the Navy awarded Perspecta a potential $656.9M contract modification to keep providing IT support services. The deal was awarded under the service's Next Generation Enterprise Network program. 
The modification extends the NGEN contract's sixth option-year ordering period by up to seven more months. Work will take place across the United States, Japan, Guam, South Korea and Europe.
The National Geospatial-Intelligence Agency also awarded Perspecta an $824M contract for lifecycle systems engineering and integration support. 
Executive Mosaic annually presents the Wash100 award to executives and leaders in the government contracting space who demonstrate skills in leadership, innovation, reliability, achievement and vision. 
Category: Popular Voices
Tags: Barry Barlow Executive Mosaic GovCon Wire government contracting IT Modernization Jim Garrettson National Geospatial-Intelligence Agency Naval Information Warfare Center Pacific Navy NGEN Perspecta Popular Voices Wash100