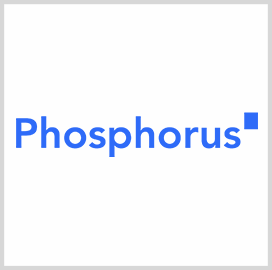 Phosphorus Cybersecurity
Phosphorus Cybersecurity to Help Air Force Establish 5G Ecosystem, Secure IoT
Phosphorus Cybersecurity has been awarded a contract to help the U.S. Air Force establish its 5G ecosystem and secure the military internet of things.
The Air Force needs a scalable 5G solution to address the expanded attack surface brought about by the military's rapid adoption of IoT technologies, Phosphorus said.
Phosphorus and the Air Force will jointly apply the company's technology under the terms of an AFWERX Small Business Innovation Research 20.3 Phase I contract.
AFWERX is a program aimed at fostering innovation in the Air Force community. The AFWERX page describes Phase I as "a simple, open door for innovation."
In 2020, Congress enacted the IoT Cybersecurity Improvement Act, which established minimum security standards for IoT devices owned or controlled by the federal government.
Phosphorus said it will help the Air Force comply with the law's requirements by conducting basic security hygiene to protect IoT devices, including the management of inventory, patching and credentials.
Chris Rouland, founder and CEO of Phosphorus, said the company's 5G solution will support the Air Force's effort to establish a zero trust security environment.
Zero trust is the design and implementation of an information technology system that does not trust any user inside or outside the network perimeter by default.
In January, Air Force Chief Technology Officer Frank Konieczny announced that the service has begun pushing mission-critical applications to a zero trust environment.
Air Force Chief Information Officer Lauren Knausenberger more recently said that the Air Force is focused on implementing some form of zero trust across the majority of its programs.
The service has so far only fully implemented the architecture in its Platform One and Cloud One collaborative development services, Knausenberger added.
Category: Future Trends
Tags: 5G AFWERX Air Force Chris Rouland Cloud One Frank Konieczny Future Trends internet of things IoT IoT Cybersecurity Improvement Act Lauren Knausenberger Phase I Phosphorus Cybersecurity Platform One SBIR zero trust