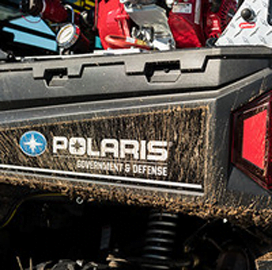 Polaris Wins $109M Contract to Deliver LTATVs for USSOCOM
Polaris Government & Defense has won a $109M follow-on contract General Services Administration to provide Lightweight Tactical All-Terrain Vehicles in support of the Special Forces Command. 
Under the terms of the seven-year, Polaris will deliver the Polaris MRZR Alpha to fulfill the command's requirements for durability, performance, payload profile and internal air transportability, the company said Thursday.
"We're fully invested in providing the highest performing, most reliable LTATV ever – and we'll continue to listen, support and innovate because our military – and especially our Special Operations Forces – demand and deserve the best," Polaris defense director Nick Francis said. 
The contract specifies two- and four-seat diesel vehicles and seven packages, each of which includes a diesel-electric hybrid engine, rear-facing seats, rear rollover protection structure, modular cargo area, top-mounted weapons integration, roof kit, enclosure kit and arctic mobility package. 
The MRZR Alpha was designed to be versatile through improved power and increased payload. It is equipped with counter unmanned aerial systems, weapons, laser systems, intelligence surveillance and reconnaissance systems, expeditionary systems, autonomy packages and medical equipment. 
Polaris will also provide related systems engineering support and training for the new LTATV. 
Company Vice President Jed Leonard said Polaris has been providing vehicles to USSOCOM since 2005 and is privileged to deliver the new MRZR Alpha. 
"USSOCOM and GSA provided industry with clear and early communication of requirements – we listened, we invested and we are honored another MRZR will be available for U.S. Special Operations."
Polaris is a defense contractor based in Medina, Minnesota. It offers a lineup of utility, transport and tactical vehicles for a range of government and military applications. 
Category: Contract Vehicles
Tags: aerospace and defense Contract Vehicles Counter Unmanned Aerial Systems follow-on contract General Services Administration GSA Jed Leonard Light Tactical All-Terrain Vehicle Nick Francis Polaris Polaris Government and Defense Polaris MRZR Alpha systems engineering U.S. Special Operations Command USSOCOM