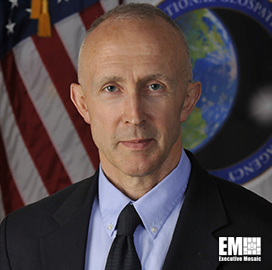 Peter Highnam
Acting Director
DARPA
Previous DARPA Research Programs Now Utilized Against COVID-19
The Defense Advanced Research Projects Agency is now reaping the benefits of its previous pandemic and disease research investments as the government continues its response against the COVID-19 pandemic.
In a recent interview, DARPA Acting Director Peter Highnam noted that findings from DARPA-sponsored research programs over the last 15 years are now being used to provide interventions, treatments and diagnostics for the novel coronavirus.
In particular, Highnam touted DARPA's Autonomous Diagnostics to Enable Prevention and Therapeutics program, which wrapped up in 2013, as it now plays a critical role in the development of nucleic acid vaccines present today, the National Defense Magazine reported Thursday.
He also spoke highly of an artificial immune system technology that resulted from the agency's Rapid Vaccine Assessment program. The resulting tech enables clinicians to narrow down which vaccines to pursue, thus simplifying an initial part of the vaccine development process.
Currently, DARPA is working on its Pathogen Prevention program, an ongoing research effort that dates back to 2012 aimed at keeping warfighters protected from unknown pathogens. The research program is looking at monoclonal antibodies as a viable solution to protect warfighters since vaccines take a long time to be cleared for use.
For now, however, DOD is shifting the focus of the Pathogen Prevention program to help accelerate efforts in identifying exposure to the novel coronavirus.
Another research effort, called the Make-It program, aims to reduce the country's reliance on foreign suppliers for materials used in manufacturing medications. The program was launched to increase the domestic production of common antibiotics and other supplies used in intensive care units.
Category: Speaker News
Tags: COVID-19 DARPA Defense Advanced Research Projects Agency national defense Peter Highnam Rapid Vaccine Assessment Speaker News