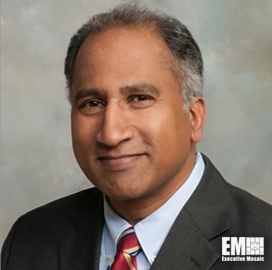 Ravi Ravichandran
VP and CTO
BAE Systems
Ravi Ravichandran, VP and CTO for Intelligence & Security at BAE Systems
Ravi Ravichandran serves as vice president and chief technology officer for intelligence and security at BAE Systems, a role he has held since September 2019. 
He leads a business unit consisting of 7,000 employees worldwide with yearly sales of $1.7B. The sector delivers integration, sustainment and systems engineering services throughout the space, cyber, air, sea and land aspects for the intelligence community, the Department of Defense and other federal customers, according to his Linkedin profile. 
Ravichandran, a Potomac Officers Club member, brings over 25 years of experience to the role. He is responsible for the design, integration, and movement of the latest technologies services that support the company's current initiatives and upcoming technology endeavors.
Al Whitmore, president of the company's intelligence and security segment, said his technical and business experience plays a major part in the organization and customers. He added that his position focuses on emerging technologies in AI and machine learning, system sustainment, data analytics, enterprise IT modernization and cloud computing. 
Previously, Ravichandran served for more than 13 years as director for electronic systems at FAST Labs. He headed a group that was focused on the organization's sector and external industrial partner technology transition and development.  During his tenure, he set up collaborative groups for program implementation, put up government and industry alliances, organized product transitions to franchise programs, and established contract R&D. 
He began his career at Scientific Systems, a defense and space technology provider headquartered in Massachusetts where his last role was manager for R&D. During this 12-year stint, the company received more than 30 small business awards in various technologies, including data fusion, image enhancement, route planning, pattern recognition and knowledge discovery. 
Ravichandran earned his bachelor's degree in electrical engineering from the Georgia Institute of Technology. He holds master's and doctoral degrees in electrical engineering from Rensselaer Polytechnic Institute.
Category: Executive Profiles
Tags: BAE Systems Chief Technology Officer CTO Executive Profiles Georgia Institute of Technology LinkedIn Ravi Ravichandran Rensselaer Polytechnic Institute Scientific Systems