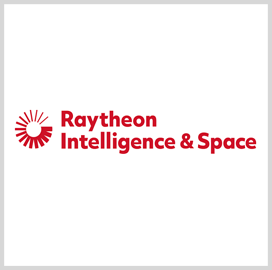 Raytheon to Support Large-Scale Army National Guard Training
Raytheon Technologies' intelligence and space business has been awarded a $30M contract to support large-scale training for the Army National Guard.
The company's subject matter experts will help execute training events under the Exportable Combat Training Capability program, a series of training exercises designed to increase the skills and readiness of National Guard units, Intelligence Community News reported.
Bob Williams, vice president of global training solutions at Raytheon Intelligence & Space and a Potomac Officers Club member, said RIS will provide complex training to the National Guard where it is needed.
"Raytheon delivers complex training to the Guard where and when it is needed. We deliver everything soldiers need for realistic training – battlefield effects, role-players and sensors to track the action," Williams said.
The XCTC program includes two-week training sessions where commanders will send their units against opposing forces.
Program participants will be equipped with sensors that capture location movement and engagement data during training. Captured footage can later be reviewed to extract lessons learned. 
RIS has reportedly supported the XCTC program since August 2016 through 19 Army National Guard brigade combat team rotations.
Under the terms of the contract, RIS will support five more rotations through October 2020.
RIS is a Raytheon Technologies business segment that specializes in developing advanced sensor, training, cyber and software solutions, according to Glassdoor. 
The company also provides solutions related to air traffic management, cybersecurity, space, ground systems command and control, radars, systems integration, reconnaissance, manufacturing, modernization and sustainment, according to its LinkedIn profile.
Category: Member News
Tags: Bob Williams Exportable Combat Training Capability program Intelligence Community News Member News POC member Raytheon Raytheon Intelligence & Space U.S. Army National Guard XCTC