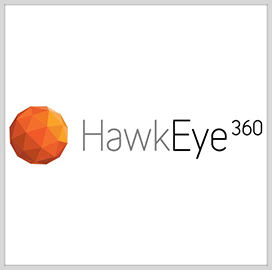 Raytheon's Steve Worley, Airbus' Chris Emerson Join HawkEye 360's Board of Directors
HawkEye 360, a satellite operations company, announced that seasoned executives Steve Worley and Chris Emerson have joined its board of directors to provide defense industry expertise and insights.
Worley is the vice president and chief operating officer of cybersecurity, training and services within Raytheon's intelligence and space business. Emerson serves as the president and chairman of Airbus' business in the United States, HawkEye said Thursday.
"As members of the board of directors, they will bolster HawkEye 360's position as an innovative geoanalytics company and will help push the company to solve hard challenges for our global customers," said HawkEye CEO John Serafini. 
Hawkeye said Worley will leverage his extensive experience in the defense and cybersecurity sectors to advance the company's business initiatives.His previous roles in Raytheon include chief financial officer for cybersecurity and special missions.
"I look forward to working alongside the other board members and the company management team to advance truly innovative intelligence solutions to our U.S and international customers," Worley said.
Emerson is credited as an industry leader in the space, intelligence, defense and homeland security markets. In his current role at Airbus, he is responsible for overseeing operations, activities and strategy to offer defense space and security solutions. 
He formerly served as the president of Airbus Helicoters and as the senior vice president and head of marketing of Airbus' commercial aircraft business. 
"HawkEye 360 is an ideal partner to complement the Airbus global intelligence portfolio, combining our unique electro-optical, SAR and analytics with HawkEye 360's global radio-frequency data and analytics brings together power sources of intelligence for a more accurate global intelligence picture," Emerson said. 
HawkEye is a radio-frequency analytics company that operates commercial satellite constellations to identify and process a set of radio-frequency signals. 
Category: Partnerships and Executive Moves
Tags: aerospace and defense Airbus board of directors Chris Emerson cybersecurity geoanalytics HawkEye 360 John Serafini Partnerships and Executive Moves Raytheon Steve Worley