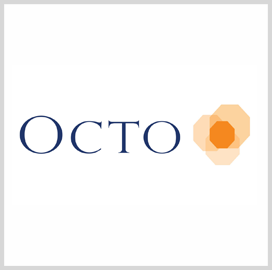 Rob Albritton Joins Octo as Senior Director of AI CoE
Octo Consulting, a Reston, Virginia-based information technology and services company, has named Rob Albritton as the new senior director of its artificial intelligence center of excellence. Albritton's primary responsibility is to lead all things AI, including shaping capabilities and offerings, setting a long-term strategy and building oLabs, Octo's research and development center.
Sujey Edward, chief technology officer at Octo, spoke highly of Albritton, noting his creative thought process and ability to transition prototypes to operational users and the tactical edge, Octo said Tuesday.
Citing the company's commitment to furthering AI efforts, Octo Chief Executive Officer Mehul Sanghani expressed confidence that Rob will successfully steer the company towards guiding federal government customers through their AI journeys.
On his end, Albritton lauded Octo for establishing research and development facilities that cater to innovating unconventional AI solutions for the federal government.
"Octo's commitment to building a world-class team around the AI Center of Excellence is already paying off with recent AI contract wins at HHS and USPTO," Albritton said.
The newly appointed leader enters Octo with years of AI and machine learning experience. He transitioned into Octo after serving as an ML engineer at MITRE, where he developed ML solutions for national security and offered AI innovation advice to senior leaders within the Department of Defense and the intelligence community.
According to his LinkedIn profile, he also spent over two and a half years at NVIDIA, holding the positions of senior AI developer relations manager and DoD AI manager. He was also a geospatial intelligence analyst for the National Geospatial Intelligence Agency and a senior engineer for GEOINT automation at Chesapeake Technology International.
Before immersing himself in AI roles, Albritton enlisted as a member of the Air Force's 38th Reconnaissance Squadron, where he helped conduct global reconnaissance for national intelligence agencies, key decision-makers and warfighters. 
Category: Partnerships and Executive Moves
Tags: artificial intelligence emerging technology machine learning Octo oLabs Partnerships and Executive Moves Rob Albritton