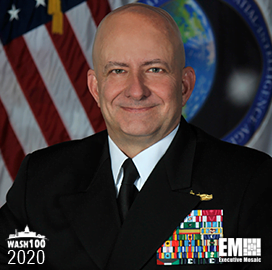 Robert Sharp
Robert Sharp, 7th NGA Director
Vice Adm. Robert Sharp, a 2020 Wash100 awardee, serves as the seventh director of the National Geospatial-Intelligence Agency, a combat support agency that distributes geospatial intelligence.
Sharp leads the agency under the authorities of the Department of Defense secretary and the director of national intelligence, NGA said. 
Earlier in May, Sharp announced that the NGA will focus on accomplishing three objectives: give primacy to its core missions, be the world's premier GEOINT force and relentlessly pursue a whole-of-research approach.  
"We have arrived at a historic inflection point — for our nation, NGA and the community. This is a time of great change and great challenge, but also one of great hope and great opportunity," Sharp said in a May 14 press release. 
Before he assumed his current role in February 2019, Sharp served as a commander within the Office of Naval Intelligence and as the director of the National Maritime Intelligence-Integration Office.
He was initially assigned as the director of intelligence for the Special Operations Command.
Sharp's operational tours include his deployment on USS Ranger, USS Constellation and USS Harry S. Truman. 
He was also deployed to Afghanistan as an intelligence director of a special operations task force. In that role, Sharp led joint, inter-agency intelligence professionals in support of Operation Enduring Freedom.
Sharp is a recipient of the Vice Admiral Rufus L. Taylor award for excellence in instruction, the Army's Knowlton Award for Military Intelligence, the Rear. Adm. Edwin T. Layton leadership award and the Naval Foundation award for excellence in operational intelligence support. 
He earned a bachelor's degree in English and was commissioned through the Officer Candidate School in 1988. 
The director also holds a Naval War College diploma and earned a master's degree in national resource strategy from the Industrial College of the Armed Forces. 
Category: Executive Profiles
Tags: College of the Armed Forces Department of Defense Executive Profiles GEOINT National Geospatial-Intelligence Agency National Maritime Intelligence-Integration Office Officer Candidate School Robert Sharp U.S. Intelligence Community U.S. Navy U.S. Special Operations Command Wash100