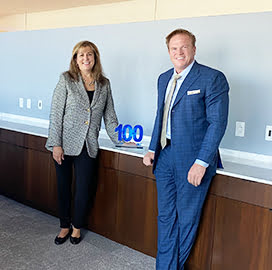 Nazzic Keene and
Jim Garrettson
SAIC's Nazzic Keene Bags Third Wash100 Award From Executive Mosaic
Science Applications International Corporation CEO Nazzic Keene, a Potomac Officers Club member, has received her third Wash100 award from Executive Mosaic. 
Executive Mosaic CEO Jim Garrettson honored Keene for her leadership in SAIC's major acquisitions, contract awards, cloud platform development and growth initiatives.  
Keene previously won Wash100 awards in 2015 and 2019 for helping SAIC expand its services into other markets to generate growth. 
She took on her current role in August 2019 following the retirement of former CEO Tony Moraco, a six-time Wash100 awardee. SAIC has since enjoyed consistent growth, which included a $348M revenue increase in the fourth quarter of its 2020 fiscal year. 
The company's growth was largely attributed to its $1.2B acquisition of Unisys' federal business earlier in 2020. 
SAIC previously said it expects the acquisition to enhance capabilities in modernizing its information technology, cloud migration, managed services, development, security and operations. 
"This exciting opportunity advances our strategy by building on our modernization capabilities, increasing customer access, accelerating growth and enhancing shareholder value," Keene said. "The financial benefits of acquiring Unisys Federal are compelling, including accretion of adjusted EBITDA margins, non-GAAP earnings per share, and cash generation.
Keen recently announced plans to reorganize SAIC's business structure into two segments: one for defense and civilian and another for national security and space. 
Effective Oct. 31, the reorganization is part of the company's effort to further grow in the areas of digital engineering, space and digital transformation, among others. 
Executive Mosaic, a leadership organization and media company, annually awards Wash100 to leaders and executives making a difference in the government contracting industry.
Executives are recognized for their leadership, innovation, reliability, achievements and vision in the sector. Winners are decided between an internal Executive Mosaic team and a community vote. 
Category: Member News
Tags: acquisition aerospace and defense CEO cloud contract award digital engineering digital transformation govcon government contracting growth Jim Garrettson Member News reorganization revenue increase Science Applications International Corporation space Tony Moraco Unisys Wash100Executive Mosaic