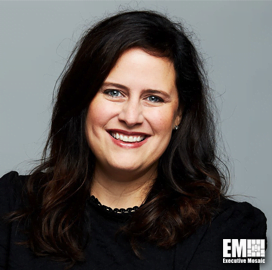 Salesforce Exec: Flexible Tech Can Improve Experience of Government's Customers
Flexible technologies can help the government improve customer experience and earn public trust, said Jenny Berarducci, Salesforce' regional vice president for customer success.
She stressed the need for tools that can adapt to customer demands, claiming the government cannot afford long development times. Berarducci highlighted the value of cloud technologies, artificial intelligence tools and customer relationship management products, GovCon Wire reported Tuesday.
The experience of customers change with their expectations, "which are influenced by everything from seasonal demands to a conversation with a single employee," Berarducci said. She recommended that government agencies align their information technology aspect with their business aspect, claiming the two have a causal relationship.
Agencies should also come up with IT plans to educate employees on priorities and new technologies, she added. 
Berarducci said artificial intelligence and business intelligence tools such as Einstein Analytics and customer relationship management products like Salesforce's Service Cloud platform enable government employees to deliver services and value to customers.
Category: Popular Voices
Tags: artificial intelligence business intelligence cloud technology GovCon Wire government agency information technology IT Jenny Berarducci Popular Voices Salesforce