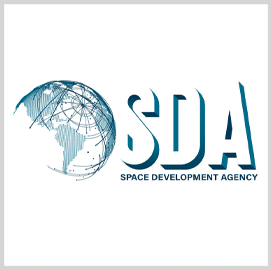 SDA Seeks Sources for Orbital Hypersonic Defense
The Space Development Agency has announced plans to launch hypersonic missile defense satellites into low Earth orbit by late 2021. SDA said it is seeking sources that can help integrate a missile-warning sensor with a satellite bus and launch it into orbit. 
The agency's "tracking phenomenology experiment" is part of its $11B plan deploy a constellation of low orbiting satellites that can detect and track maneuvering hypersonic missiles, Space News reported. 
"It will characterize scene backgrounds for a range of satellite viewing conditions to optimize algorithms, concepts of operations and wavebands for advanced missile detection and tracking," SDA said in its request for proposals. 
Nicholas Nelson, a Space News columnist, previously said China and Russia have been pumping out new hypersonic weapon systems while the United States has been preoccupied with issues like counterterrorism. 
SDA Director Derek Tournear said the experiment will support two other satellites being developed by the Defense Advanced Research Projects Agency under the Blackjack program. 
The experiments will collect data "so that we can really justify that we've chosen the correct bands, that we understand some of the phenomenology," Tournear said.
SDA is also scheduled to release on June 15 an RFP for the first eight satellites of the missile tracking constellation, according to Tournear.
He said the eight satellites will provide a wide field of view from orbit for detecting and tracking fast-flying hypersonic missiles.
The Department of Defense's Missile Defense Agency will provide a "medium field of view" layer of satellites through its yet funded Hypersonic Ballistic Tracking Space Sensors program, Tournear added. 
Category: Popular Voices
Tags: Defense Advanced Research Projects Agency Derek Tournear Doug Lamborn Hypersonic Ballistic Tracking Space Sensors hypersonic missiles hypersonics Missile Defense Agency Popular Voices Space Development Agency Space News tracking phenomenology experiment