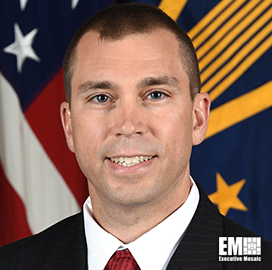 Derek Tournear
Director
SDA
SDA to Accelerate Orbital Satellite Array Development, Derek Tournear Says
The Space Defense Agency plans to expedite its development of a satellite network in low-Earth orbit to support U.S. troops in the field, according to the agency's top official.
The SDA reportedly intends to buy and deploy hundreds of satellites within the next several years. But SDA Director Derek Tournear,  a past Potomac Officers Club event speaker, said he wants conversations to be focused on the benefits the said satellites offer instead of on the technology itself, SpaceNews reported Tuesday. 
"We are focused on the warfighter and providing capabilities. We want to want to talk a lot about satellites but, realistically, we're trying to work backwards and say 'what does that warfighter need in space to be able to accomplish the mission?" Tournear said.
Tournear said the agency wants to quickly deliver to warfighters capabilities that are good enough instead of delivering perfect solutions too late.
According to SpaceNews, it typically takes the Department of Defense a decade to field systems such as the SDA's planned satellite network. SDA, however, plans to have the network active in orbit within two years. 
The first array of satellite SDA plans to launch in 2022 will be a combination of surveillance sensors designed to help the military find targets on the ground and heat-tracking sensors built to locate missiles in flight, Tournear said.
He added that the SDA wants to avoid the Pentagon's past mistake of running programs over budget and behind schedule.
The agency has issued multiple solicitations for space architecture concepts, satellite integration and space technology demonstrations.
Category: Speaker News
Tags: Derek Tournear low-Earth orbit Pentagon satellites SDA solicitation Space Development Agency SpaceNews Speaker News