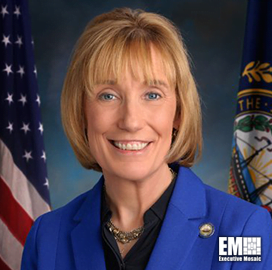 Maggie Hassan
Sen. Maggie Hassan Urges Agencies to Explain IT Modernization Plans
Democratic Sen. Maggie Hassan has asked several federal agencies to explain their modernization plans in the face of heightened information technology issues during the coronavirus pandemic. 
Hassan sent letters containing six questions to the Office of Personnel Management, Small Business Administration, Social Security Administration and the departments of the Treasury, Homeland Security, Defense, Interior, Education, Health and Human Services and Transportation, Nextgov reported Thursday.
"The public health emergency caused by COVID-19 underscores the need for federal agencies to invest in modernizing current IT systems that cannot meet mission expectations in a crisis. Failing to do so could result in costly errors, security vulnerabilities and inability to serve the American people," Hassan wrote. 
Hassan gave them until August 3 to respond. 
She urged the the agencies' chief information officers to modernize their IT systems to improve security, increase efficiency and reduce spending on legacy IT systems. 
Hassan added that legacy systems hinder investments in newer systems. She pointed out that for fiscal year 2019, $29B of the $87B federal spending on IT was directed towards maintaining legacy systems. 
"The use of aging, unsupported and expensive legacy systems is still common practice despite calls from Congress and the executive branch for agencies to modernize IT systems to make them mission-ready, cost-effective and secure," Hassan said.
Hassan asked the agencies to explain their modernization priorities, status of legacy system modernization, efforts to phase out outdated systems, financial coordination on IT acquisition and how Congress can help in their modernization efforts. 
In each letter, Hassan included an example of the recipient agency's legacy systems and the benefits of modernizing it.  
Category: Popular Voices
Tags: Department of Defense Department of Education Department of Homeland Security Department of Transportation Departments of Treasury Health and Human Services Homeland Security information technology IT Modernization legacy system Maggie Hassan Nextgov Office of Management and Budget Office of Personnel Management Popular Voices Small Business Administration Social Security Administration U.S. Senate