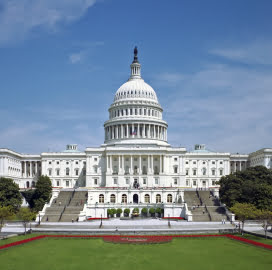 Senate Armed Services Votes to Advance NDAA
The Senate Armed Services Committee has voted to approve the National Defense Authorization Act but excluded a provision requiring the appointment of a national cyber director. 
The NDAA, which the committee approved 25-2, includes provisions for 5G networks, artificial intelligence and quantum technologies, MeriTalk reported. 
"The FY21 NDAA directs investments and implements policies that will maintain or expand our comparative advantage over China and Russia for key capabilities and technologies," the committee said in its June 11 summary.
NDAA would task the Department of Defense chief information officer to lead the agency's effort to advance 5G. The CIO would also be required to demonstrate innovative 5G commercial technologies. 
DOD's secretary would also be required to submit a report on the risks that Huawei's 5G architecture abroad poses to the department. 
The committee encouraged DOD to leverage commercially available AI technologies where appropriate.
As part of its plan to ensure superiority in cyberspace the committee called for an assessment of the risks posed by quantum computing to national security systems and for enhancements to the Quantum Information Science research and development program. 
The bill includes 11 recommendations from the Cyberspace Solarium Commission but excluded its call for the appointment of a national cyber director. 
Instead, the committee directed "an independent assessment on the feasibility" of the position, according to the bill's summary.
The committee proposed a 16-month extension of the CSC, which a previous NDAA bill stood in 2019 to propose recommendations in creating layered cyber defenses. 
NDAA also includes provisions for nuclear modernization, spectrum management, joint capabilities development, weapons programs and military superiority across all domains. 
Category: Future Trends
Tags: 5G artificial intelligence Cyberspace Solarium Commission Future Trends Huawei MeriTalk national cyber director National Defense Authorization Act NDAA quantum technology Senate Armed Services Committee