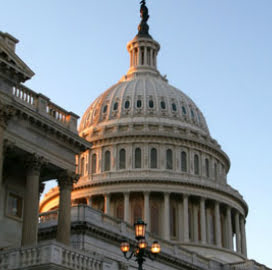 Senate Pledges More Funding for HBTSS, Remains Silent on Details
The Senate Armed Services Committee plans to infuse additional funding in fiscal year 2021 into the Hypersonic Ballistic Tracking Space Sensor, which received $108M in fiscal year 2020.
The committee has not announced how much will be provided. In December, Congress selected the Missile Defense Agency to lead the HBTSS' development, C4ISRNET reported Thursday.
However, the MDA's 2021 budget proposal transfers funding responsibility to the Space Development Agency. Congress has not yet clarified if it will endorse the transfer of funding to the SDA in 2021.
In a March hearing, MDA Director Vice. Adm. John Hill assured legislators that his agency would remain in charge of the HBTSS sensor development project, adding that the SDA will only provide support. 
Hill said Michael Griffin, the Department of Defense's undersecretary for research and engineering and a 2019 Wash100 winner, was the one who decided to transfer responsibility. 
The SDA submitted a 2021 budget proposal that includes $137M for space technology development, which includes funding for space sensor technology. 
MDA previously listed the HBTSS as an unfunded priority in response to growing concerns over Russia's and China's development of hypersonic weapons.
The HBTSS is part of the SDA and MDA's plan to create an orbital constellation of hundreds of satellites that can detect and track hypersonic weapons.
MDA previously awarded Northrop Grumman, Leidos, L3Harris Technologies and Raytheon $20M contracts each to develop a prototype payload design and signal-chain processing risk reduction demonstration for the HBTSS. 
The agency awarded the contracts through the Space Enterprise Consortium.
Category: Future Trends
Tags: C4ISRNET defense bill Department of Defense Future Trends HBTSS hypersonic Hypersonic and Ballistic Tracking Space Sensor John Hill Michael Griffin Senate