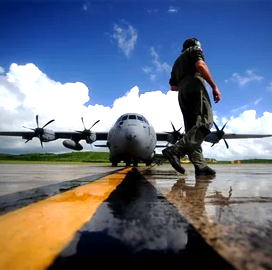 Air Force
Shift5 to Deliver Micro-Form Factor Cybersecurity Technology for Air Force
Cybersecurity company Shift5 has landed a contract with the Air Force Cyber Resiliency of Weapon Systems office to provide software security services that enhance the warfighter capability.
The Small Business Innovative Research Phase III award is an extension of Shift5's existing SBIR Phase II project via AFWERX. Work starts in September 2020 and will mainly take place in Rosslyn, Virginia. 
The CROWS office was established in 2018 by the National Defense Authorization Act of 2016 through Air Force Materiel Command's Life Cycle Management Center. The unit is tasked to determine and reduce cybersecurity vulnerabilities of weapon systems, including on legacy networks. The organization also develops cybersecurity solutions through R&D testing and evaluation. 
Under the agreement, Shift5 will enhance its disruptive cybersecurity technology to assist the Air Force. The organization will change the cybersecurity technology into a micro-form factor prototype to allow a broad range of use cases, including those that are small, power-sensitive and lightweight. 
After the SBIR Phase I award in December 2019, Shift5 finished the contract requirements, allowing any federal agency to issue sole-source Phase III awards to obtain the company's products without competition.
Mitch Plonski, head of operations, said the partnership with the Air Force will allow the company to provide micro-form factor technology that will protect the agency's platforms against cyberattacks. 
"This project, and our mission focus in supporting the DoD, is answering the call to better secure our most critical weapon systems that stem from the 2016 NDAA Section 1647 and is discussed in a GAO report in 2018," he said. 
Headquartered in Arlington, Virginia, Shift5 offers products that defend operational technology from cyberattacks in platforms that include planes, trains and tanks. The company provides cybersecurity protection for serial data buses through proprietary defensive hardware and software products.
Category: Future Trends
Tags: AFWERX contract award CROWS Cyber Resiliency of Weapon Systems cybersecurity Department of Defense Future Trends Mitch Plonski SBIR Shift5 Small Business Innovative Research U.S. Air Force