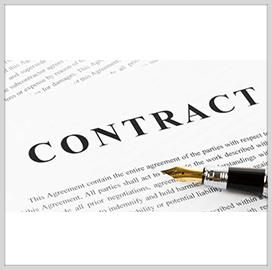 Six Companies Land $1B Price Ceiling Increase for DOD Construction Contract
The Navy has awarded several companies, including AECOM Technical Services, a $1B modification to a previously awarded hybrid contract for global contingency construction services. 
The other companies are Aptim Federal Services, CH2M Hill Constructors, Environmental Chemical, Fluor and Perini Management Services, the Department of Defense announced.
The previously awarded contract is an indefinite-delivery/indefinite-quantity, multiple-award deal. Its total cumulative value has been raised to $2.09B.
The contract's term will not exceed five years with a completion date of March 2024. 
Task orders will primarily be funded by the Navy's military construction, operations and maintenance funds. The Naval Facilities Engineering Command in Norfolk, Virginia, is the contracting activity.
According to a previous DOD announcement, the contract was competed through the Navy Electronic Commerce Online and Federal Business Opportunities websites.
GovCon Wire previously reported that the Naval Facilities Engineering Command awarded the companies an initial $150K from the fiscal 2019 supervision, inspection and overhead contract funds.
Work performed under the contract will provide immediate-response construction services when authorized by the Navy, the Department of Defense and other federal agencies. 
The companies will help the government respond to natural disasters, humanitarian needs, conflicts and other similar scenarios that predominantly require construction services. 
Work might also include response readiness efforts, military exercise activities and operational services for a material liaison office in support of the Naval Construction Force, GovCOn Wire reported.
Category: Contract Vehicles
Tags: AECOM Technical Services Aptim Federal Services CH2M Hill Constructors contract award contract modification Defense.gov Department of Defense Environmental Chemical Fluor Intercontinental IDIQ multiple-award contract Naval Facilities Engineering Command Atlantic Perini Management Services U.S. Navy